Humidifier Guide
Humidifier Benefits
There are many benefits to using a humidifier to increase the moisture in your home environment. A humidifier can help do the following:
Ease respiratory issues and can help you avoid colds or the flu
Help eliminate static electricity and prevent shocks and damage to electronic equipment related to it
Increasing the moisture in the air helps to keep your wood floors and furniture intact
Humidifier Types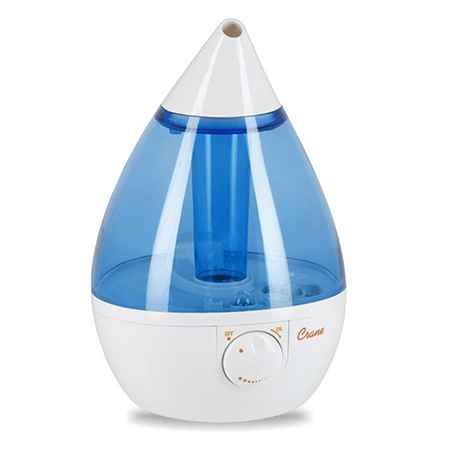 Cool Mist Evaporative is the most common type of humidifier. This humidifier adds moisture to the air using natural evaporation. It uses a wick to absorb water from a tank. The fan then blows dry air through the wet wick causing cool water to evaporate into the air, increasing the humidity of the room.
Wick filter removes impurities
Low power demands
Fans can be noisy
Water needs to be refilled
Wick filter requires replacement every 2 months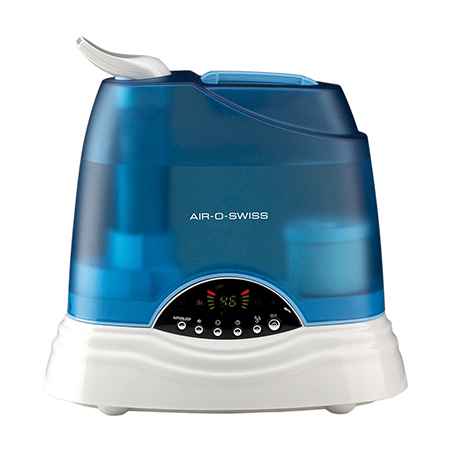 Warm Mist humidifiers use a boiling element that works similar to a teakettle. The boiling water is then released into the air in the form of steam.
Popular in colder climates to keep rooms warm
Steam released into air is free of minerals and impurities
Quiet use with no need for a fan
Water needs to be refilled
Occasional cleaning may be necessary to remove impurities
Vaporizers are a simpler, smaller version of warm mist humidifiers. They use a built-in reservoir for water rather than a full tank and are great for personal use.
No filters to replace
Small design is easy to use and portable
Quiet use with no need for a fan
Water needs to be refilled
Occasional cleaning may be necessary to remove impurities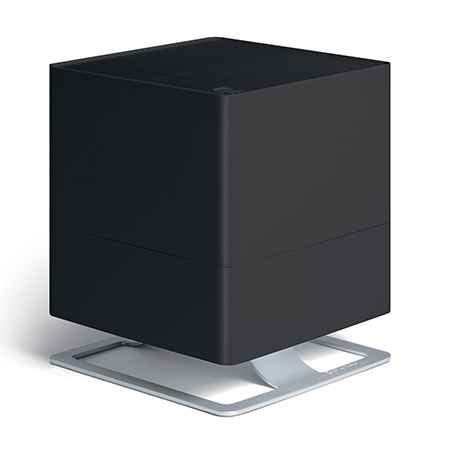 Ultrasonic humidifiers can come in both cool and warm mists and are often your quietest option. This design uses the vibrations of a metal diaphragm to break down the water in the tank into a vapor mist. This mist is then expelled into the air using a small, quiet fan.
Extremely quiet
Low power design
Some models feature both cool and warm mists
Water needs to be refilled
Require a demineralization cartridge to remove impurities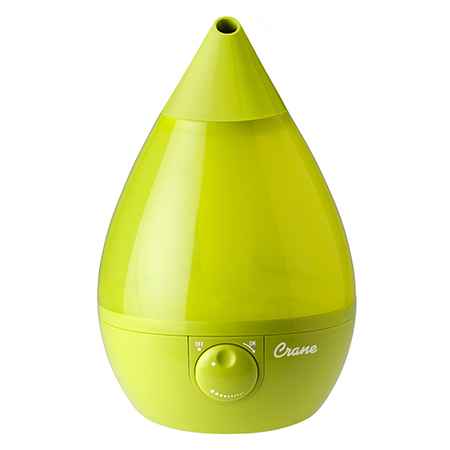 Cool Mist Impellers use a spinning disc to generate a cool mist. This model does not use a filter, so distilled water and regular cleaning of the unit is your best bet.
Quiet use
Low power design
No filter necessary
Water needs to be refilled
Occasional cleaning may be necessary to remove impurities
Humidifier Styles & Output
Humidifier Styles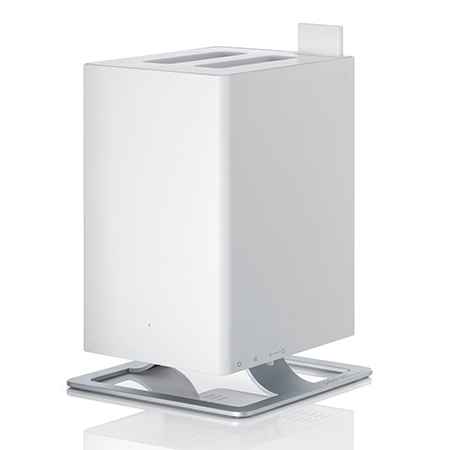 Tabletop humidifiers are great for adding moisture to a single room. They are also sometimes referred to as portable humidifiers. A lightweight design makes them easy to move from room to room. Tabletop designs can be expected to output about 2-4 gallons per day.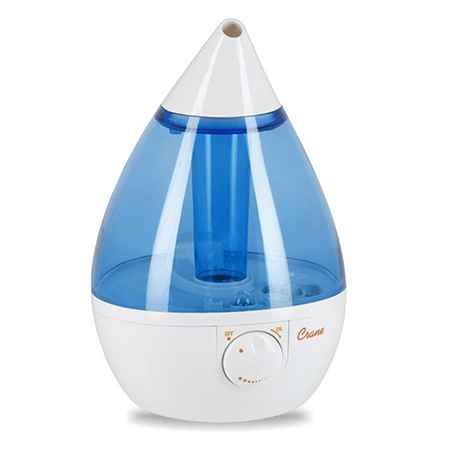 Compact humidifiers are smaller versions of tabletop humidifiers. Compact designs can be expected to output up to 1.5 gallons per day.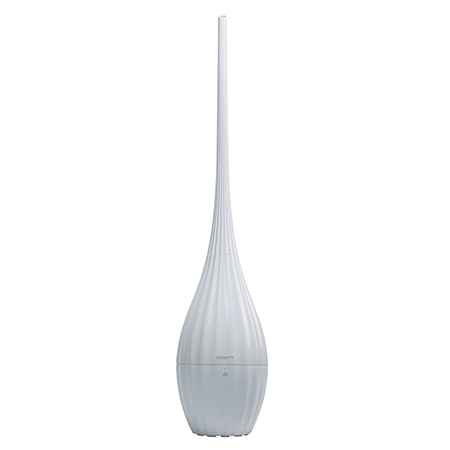 Tower designs usually require fewer refills and are great for floor usage in medium-sized rooms. Tower designs can be expected to output about 2-4 gallons per day.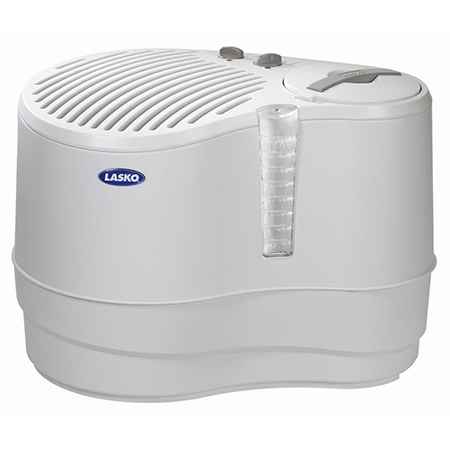 Console humidifiers are similar to tabletop humidifiers but use more power and are able to humidify multiple rooms at once. Because these humidifiers are larger, they do not need refilling as frequently as tabletop humidifiers, and are usually still portable. Console designs can be expected to output 9 or more gallons per day.
Output
Just as important as the type of humidifier is the output you can expect from your unit per 24 hour period. Different models are generally better for different rooms, so they can be as effective as possible in adding humidity to your home.
Design
Suggested Room Placement
Compact Humidifiers
Small room
Tabletop Humidifiers
Single room
Tower Humidifiers
Single room
Smaller Console Humidifiers
2-3 rooms
Large Console Humidifiers
Up to 3,000 sq. ft.
Special Features to Consider
Digital displays: These designs make operation quick and easy to understand.
Timers: A handy feature to allow you to set the humidifier to turn on and off at certain times of day, saving you time and energy costs.
Automatic shutoff: Another feature to save you energy and give you peace of mind, auto shutoff turns the humidifier off when water is low. This is often a standard feature found on many humidifiers.
Remote Control: A humidifier with a remote allows you to adjust the settings from the couch or across the room for convenience.
Run time: This information tells you how long you can enjoy the mist or steam of your humidifier before its time to refill. Run time will vary from model to model, depending on the design and tank size.
Adjustable moisture control: This feature allows you to change the moisture level depending on the weather, time of day or desired noise output.
Filters: Often filters are required on some humidifiers, but not on others. Some models also come with an automatic filter refill sensor, which will illuminate an indicator light to tell you when the filter should be changed.
Demineralization Cartridges: A cartridge may be necessary for some types of humidifiers that use ultrasonic technology. This helps prevent the minerals present in hard water from being dispersed into your air. Some models may come with a demineralization cartridge pre-installed, while others may require a separate purchase.
Dishwasher-Safe Tanks: This handy feature makes cleaning the build-up of impurities a breeze.
Energy Star-Rated Designs: Choosing an Energy-Star Rated humidifier helps ensure an energy-efficient unit, saving you money.
Medicine Cup: This design takes the humidifier even further when you're under the weather! Medicine cups allow you to add vapor medication to the unit to help you breathe a little easier.
UV Light: A UV light uses an ultraviolet light to kill up to 99.9% of bacteria and viruses in your water. This adds an extra level of germ protection and sanitization. It does require replacement bulbs every so often.
Use & Maintenance
Use
Follow the manufacturer's guide for instructions on setting up your humidifier
Before using, wash the water tank out with a warm, mild soap solution
Fill with distilled or filtered water and enjoy!
Maintenance
Replace the unit's filter every few months
Clean the water tank once a week with a mild soap solution to remove buildup
Make sure to place the unit away from pets and children's reach
Always unplug the unit before any cleaning or maintenance
Back to the Top