Thanks for letting us celerbate with you!
We're unfortunately discontinuing The Registry at Kohl's.
We're honored to have helped so many customers celebrate big days, little ones and all the special moments in between. We truly apologize for any inconvenience, and hope to continue being your go-to for great gifts in the future. All our best!
If you're enrolled in a registry, you'll be able to maintain it through January 31, 2019. We'll also be reaching out to you with further details.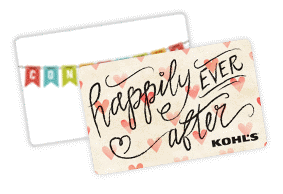 Give the Gift of Kohl's
The perfect present for any occasion! With all of the great ways to save,
your gift card goes further at Kohl's.