Outerwear Guide
From cool spring to chilly fall and frigid winter, protect against the temperature and elements in outerwear
designed to fit your life and style.
Styles/Silhouettes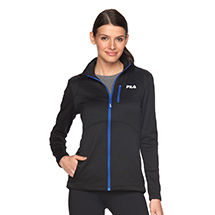 Active
Whether you run, jog or hike, active outerwear offers lightweight warmth that's great for your lifestyle. It's perfect for outdoor activities, as some styles are wind- and water-resistant.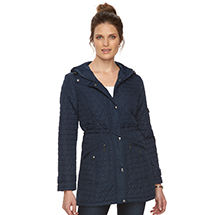 Anoraks
To shield you from wind and rain, anorak outerwear features an inner or outer adjustable drawcord waistband. The warmth level ranges from lightweight to heavyweight.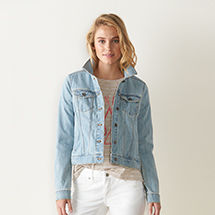 Denim/Jean
A classic look, the denim jacket is a perfect lightweight choice for layering on chilly days.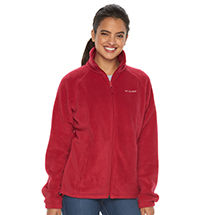 Fleece
Fleece makes for a soft, lightweight casual jacket that's perfect for cooler fall weather.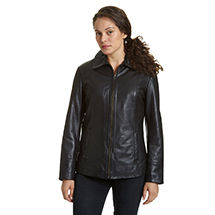 Leather/Faux Leather
Leather or faux leather jackets are unique, timeless designs that complement a wide variety of outfits and are easy to maintain.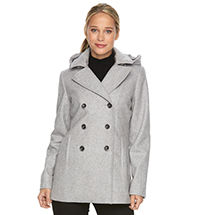 Peacoats
The peacoat is a dressier silhouette that flatters your shape. It typically features a double-breasted design and usually sits at or just below
the waist.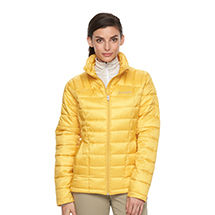 Puffer
Puffer jackets and coats feature a soft "puffy" design that's filled with down insulation or synthetic fibers, both of which provide a high level of warmth.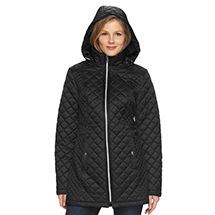 Quilted
Quilted outerwear features stitching in a decorative (e.g., diamond) or straight pattern that gives the jacket a three-dimensional look.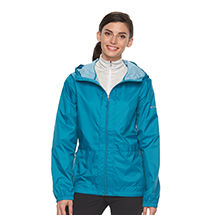 Rain
Raincoats and jackets have a hooded, lightweight design constructed of breathable, water-resistant fabric to protect you from the rain.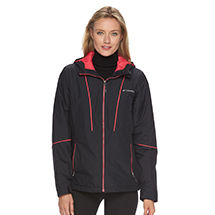 Ski/Snowboard
Ski and snowboard outerwear has a durable, heavily insulated design to protect against extremely cold weather and harsh elements.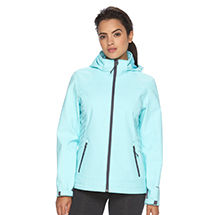 Softshell
Softshell jackets are designed for outdoor use in light weather conditions. They're great for medium-impact activities like climbing, backpacking, cycling or running, and are water-resistant and highly breathable.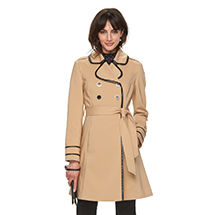 Trench
With a dressier silhouette that typically includes a belt, trenches range in length from just above the knee to floor length. They provide lightweight to midweight warmth.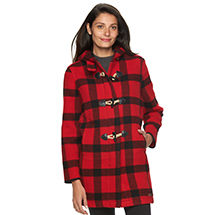 Wool/Wool-Blend
Durable and cozy yet stylish and timeless, a wool or wool-blend jacket or coat is a great midweight to heavyweight pick for cooler temperatures. They typically hit below the waist but can also be floor-length.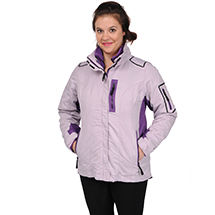 3-in-1 Systems
The versatile 3-in-1 jacket contains an outer jacket and an inner jacket or vest. Depending on the weather, they can be worn together or separately.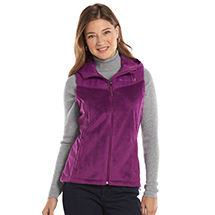 Vests
Vests are sleeveless, close-fitting waist-length garments that are perfect as lightweight layers on cool days. Look for them in fleece, puffer, faux fur or denim styles.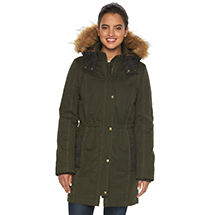 Parka
A knee-length cold-weather coat, the parka is typically filled with down or very warm synthetic fiber and may include a faux fur-lined hood.
Technologies
Moisture Wicking
A material designed to pull moisture, like sweat, away from the skin.
Columbia
Omni-Shield™
A technology that is water and stain repellent.
Columbia Omni-Tech™
A technology that allows your jacket to be breathable yet waterproof.
Columbia
Thermal Coil™
A technology that regulates your temperature with thermal coils that radiate and retain the warmth your body generates.
Waterproof
A material designed to keep moisture out in driving rain.
Water Repellent
A coating on a jacket that causes water to bead up and roll off.
Water Resistant
A breathable material that can handle light precipitation for a short amount of time.
Windproof
A material impervious to wind, no matter how hard it blows.
Wind Resistant
A material strong enough to block a light breeze, but not enough that it stops a strong wind from penetrating it.
How to Build a Snow Fort
Size wisely
Trace the perimeter of the fort in the snow using a shovel, branch or broomstick handle.
Build the bricks
Use moist packing snow to build the blocks.
Construct and sculpt the walls
Stack the snow bricks up to form the walls. Fill in the gaps with well-packed snow.
Ice, ice baby
Dump buckets of cold water over the walls, inside & out, working from the bottom up.
Have fun!